FIFA World Cup 2022 - Why Denmark Can Win It All
Last updated: Oct 31, 2022, 3:35PM

|

Published: Jun 23, 2022, 4:21AM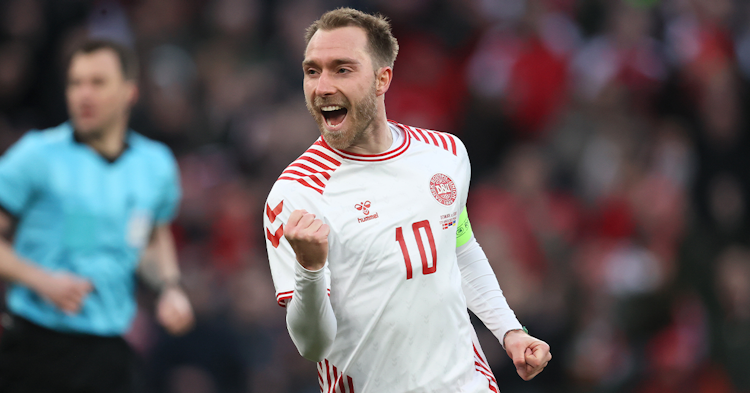 Denmark will once again enter a major tournament full of hope at the 2022 World Cup in Qatar.
The perennial 'dark horse', it's almost an unspoken in-joke amongst football fans that Denmark is a sleeper for every major tournament. They've always had little bits of quality with some exciting young players, but not enough depth in that quality for them to be a real World Cup contender.
But that all changed in June of last year at Euro 2020. They defied all the odds, and after suffering the biggest heartbreak of them all, seeing their talisman Cristian Eriksen collapse on field, Denmark went on and reached the Semi Finals of the Euros, only being beaten by England in extra time.
It was the coming-out party that they needed, and now Denmark will be seen as a serious threat to any team in this World Cup. They stated that they 'dared to dream' in hopes of repeating their 1992 heroics, however, this time around, they won't have to be doing as much dreaming.
In 2022, Denmark is ready to make a serious charge towards football's ultimate prize. Young, exuberant and thrilling to watch, the Denmark squad is packed with quality that has found balance and is ready to shake up the world. This is how Denmark can 'dare to dream' once more.
World Cup 2022 Predictions for Denmark
| | | |
| --- | --- | --- |
| Stage of World Cup 2022 | Probability | Betfair Odds (Nov 1, 2022) |
| To win the World Cup | 3.5% | $36 |
| To reach the Final | 8.2% | $16.50 |
| To reach Semi Finals | 19.4% | $5.50 |
| To reach Quarter Finals | 38.3% | $2.70 |
| To win Group D | 31.8% | $3.75 |
| To advance from Group D | 74.9% | $1.40 |

RELATED: World Cup 2022 Predictions
Denmark Is Primed and Ready
There's plenty of reasons why certain squads are able to achieve international success and others aren't. Take the England side of the early 2000s for example. For the amount of talent that was in their possession, they could never find success. This was for two main reasons.
Firstly, that England side could never find balance. Three managers couldn't make a midfield of Frank Lampard, Steven Gerrard and Paul Scholes work. Secondly, they never had the national pride that is needed to succeed for your nation.
The reason why this is important is that when looking at Denmark, it is clear that they are the antithesis of that England side.
Denmark has unbelievable balance, not only in squad profile but in their team line-up. In their loss to England in the Euro 2020 Semi Final, they started four players over the age of 30, four players under the age of 25, and three players aged between 25-30.
Of Denmark's substitutes, one was above the age of 30, three were below the age of 25 and two were between the ages of 25-30. This incredible balance in age doesn't take into account the talents of Andres Skov Olsen, aged 22, and Eriksen, aged 29, both of whom didn't feature for different reasons.
Denmark's balance also finds its way into the way they play. Deploying a 3-4-2-1 system, the Danes play in a very systematic way that doesn't waver from the formation's key constructs. The double pivot in midfield stays tight together and sit slightly deeper.
The back three sit in a clear structure that offers multiple triangle passing options with that double pivot, whilst the wing-backs sit wide and join the attack at every opportunity. Then, the fluid front three are able to mix and match positions based on the make-up of the opposition.
Should Eriksen occupy one of those wide-forward positions, he tends to come slightly central, acting as a forward fulcrum that the rest of the team uses to rebound and make runs off. Otherwise, the likes of Skov Olsen, Mikkel Damsgaard and Yussuf Poulsen would play that wide forward position similar to how it would be traditionally played.
RELATED: Denmark vs Tunisia World Cup Predictions
This system, which was only deployed on a full-time basis as a result of the horrifying incident of Christian Eriksen in the Euros, has been able to produce big wins. Most recently, beating upcoming Group D rivals France 2-1.
Having only lost with this system in competitive games twice since the conclusion of the Euros, coach Kasper Hjulmand will have immense confidence that it can produce the same magic (or more) that it did only a year and a half prior.
As aforementioned, the second reason why this Denmark side is primed to shake up the world is their unwavering national pride.
While their Euro 2020 camping was slightly lifted and carried by the emotion of the Eriksen incident, there is no doubt that they will be taking those emotions and that attitude to Qatar 2022.
The thought process going through all Danes' minds in the lead-up to this World Cup will be if we did well at the Euros, imagine how good we can be when Eriksen is playing in this side during the Qatar World Cup.
The fact that very few of these Denmark players play against each other's clubs on a regular basis also helps with their spirit and culture. We have seen nations like Brazil have massive success because there are no internal feuds happening, considering that they don't all play in their domestic league, so there is less chance of conflict.
RELATED: Why France can retain its title in Qatar
Can The Danes Shake Up The World Cup?
Well, they gave it a red hot crack at the Euros, they haven't been able to announce themselves on the world stage just yet.
Their 2018 World Cup campaign ended in heartbreak as they fell on penalties to eventual runners-up Croatia. This is ironic in a sense that Croatia, a side that no one really thought would get far in the World Cup, made the final, and arguably should've won it.
Can Denmark replicate those heroics? First they need to overcome a group of France, Australia and Tunisia, which they should be able to qualify from with relative ease. The match against France though should be a good test to see where they are at compared to one of the World Cup favourites.
Denmark will probably be most people's 'second team' for the World Cup, and for good reason.
The Danes are a side that is ready to take the world by storm and make a serious charge for the World Cup trophy. They shook up Europe in 1992, now it's time they shake up the world in 2022.
MORE: The Socceroos Look To Continue Their Fairytale Run
(Photo by Robbie Jay Barratt - AMA/Getty Images)