What Each Of The Other 16 Clubs Can Learn From The 2021 Grand Finalists
Last updated: Sep 21, 2021, 12:22AM

|

Published: Sep 20, 2021, 5:20AM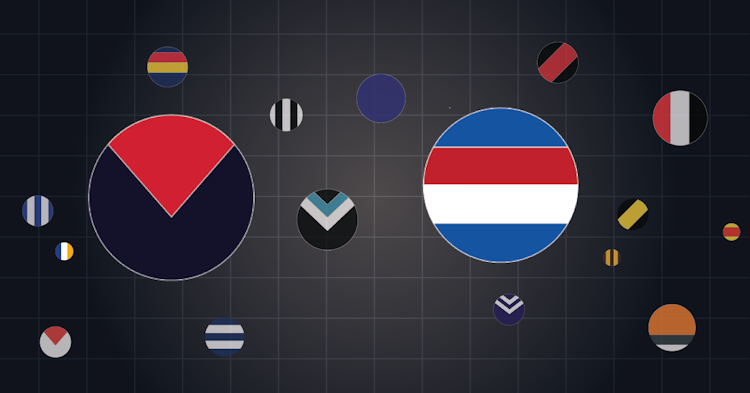 The Dogs and Demons have mastered the 2021 season. That's why they'll square off in an historic Grand Final in Perth and why the AFL's 16 other clubs will be watching on with fire in their eyes.
While some lines were fluffed along the way, the Dogs for instance appeared to fall off the face of the earth at the end of the home and away season, while Melbourne famously dropped games against both Adelaide and Collingwood, the reality is these two have been brilliant all year, flexing their muscles rather viciously throughout the finals.
As for every other club watching on, sucking their teeth as they endure the sight of either Max Gawn or Marcus Bontempelli lifting the premiership cup into the night sky of Perth, here's one lesson the grand finalists can impart to the rest of the league.
RELATED: Report Card- Grading All 18 AFL Club's Home And Away Seasons
Adelaide
The Veterans need their burden eased
Both the Dogs and Demons wouldn't be here without their veteran contributors, think the continual excellence of Max Gawn or the rugged determination of Tom Liberatore, yet the fact is that so many of each other's young players have stepped up brilliantly throughout the season and during finals.
Melbourne have enjoyed phenomenal campaigns by the likes of Kysaiah Pickett and Luke Jackson, and the Bulldogs have reaped incredible early returns from Bailey Smith and Aaron Naughton, though it's also worth remembering that these two sent out a combined 21 players with less than 100 games AFL experience over preliminary final weekend.
As for Adelaide? Well Adelaide are still camping out down in the nether regions of the ladder and are doing so while still being governed by a largely veteran presence. While the Crows did get a heap of footy into the likes of Jordon Butts, James Rowe and Sam Berry in 2021, and while Riley Thilthorpe indeed looks like a potential star, the reality is too many of Adelaide's very best players remain in the latter stages of their career. At 31, Tex Walker was easily their top goalscorer, while 4 of the 5 Crows to average more than 20 disposals per game this year will all be at least 28-years of age come Christmas.
Brisbane
Be bolder this off-season
Melbourne and the Bulldogs have been two of the more aggressive teams when it comes to the AFL trade and free agency period with so much of their lists reflecting their enthusiastic involvement in the off-season.
Melbourne have the league's definitively best defence, the likes of which wouldn't be possible without Steven May and Jake Lever whom Melbourne of course parted ways with a tonne of draft stock to secure. Similarly, the Bulldogs have been just as busy over the last few seasons going to market to secure bookends Alex Keath and Josh Bruce, while the likes of Stef Martin, Taylor Duryea, Josh Schache and Adam Treloar will be critical components of the next weekend's premiership tilt.
While it's not as though Brisbane have ignored the off-season sweepstakes, they have played a relatively conservative bat in recent years and haven't been as prepared to roll the dice as our two grand finalists. While they did net Joe Daniher last year, he was an acquisition that cost them nothing in the way of draft capital. To take the next step they may need to bring in some more established talent and perhaps be a bit more inventive in doing so.
Carlton
It's got to be more than just the stars
On the one hand, the Blues ought to be exhilarated they have a trio of genuine superstars, the likes of whom are all in the kind of age bracket that Carlton should be able to mine a decade's worth of high-level play from. On the other hand, Carlton's list drops off significantly once you move beyond Jacob Weitering, Sam Walsh and Harry McKay.
While the Dogs and Demons have their fair share of legitimate superstars, with the two teams combining for 8 All-Australians this season, the reality is that these two have a couple of the deepest lists in the competition, and enjoy consistently excellent contributions form fringe players. Until Carlton can bridge the gap between their generals and foot soldiers, the AFL will remain a hostile environment for them.
RELATED: Carlton's Coaching Search And The Beauty Of The Blank Page
Collingwood
Must nail your premium draft picks
When you think of the absolute core of Melbourne and the Bulldogs, the likes of Clayton Oliver, Christian Petracca, Marcus Bontempelli and Jackson Macrae jump off the page. All were very much blue chip draft prospects that were not only identified at a young age, but have developed extraordinarily well. And its a similar story with more recent top-end picks like Pickett and Jackson at the Demons or Naughton, Smith and Cody Weightman at the Dogs.
As for Collingwood, they're only now navigating the waters of a full-blown rebuild and have the pressure of needing to nail the premium picks that come their way. Last year the Pies had four top-30 selections with Oliver Henry, Finlay Macrae and Caleb Poulter looking impressive, particularly at the end of the season, while it's hoped Reef McInnes can also contribute well at the highest level. They'll likely have their first #1 pick in 22 years when they take Nick Daicos this November. Reeling in the son of a legend of the club will give Pies fans great hope, but will only ramp up the pressure on the developmental side of things at the Holden Centre.
RELATED: How Collingwood Can Rebuild After Their Disastrous Season
Essendon
Create a defensive forcefield
The Bombers obviously made massive strides this season and returned to finals even if their Launceston date with the Dogs bought back memories of their much maligned post-season futility.
First year coach Ben Rutten was superb, while the list made massive strides with Zach Merrett re-signing, Darcy Parishdeveloping into an All-Australian and Jake Stringer returning to his absolute best while some of their kids such as Nik Cox, Archie Perkins and Sam Draper look legitimately good.
Essendon did however haul around a pronounced weakness in 2021 and it's one they can look to the grand finalists, particularly Melbourne, to help remedy.
Simply put, Essendon stood out like a sore thumb defensively with their 10th ranked points per game rearguard lagging behind its impressive 4th place attack. Whereas the Demons were largely impenetrable down back, conceding the league's fewest marks inside 50 and dwarfing the league when it came to intercept possessions, Essendon ranked just 12th and 9th in these departments and must improve if they're to break their 17-year drought of not winning a final.
Fremantle
Get that scoreboard ticking over
For the bulk of 2021, the Bulldogs had the league's very best attack and while it took a hit with a season-ending knee injury to Josh Bruce, they recovered to strike fear into opponents and help propel its premiership push.
While so much of the Dogs scoreboard pressure starts with a midfield who supplies so much service, it's the Dogs ability to haul in marks inside 50 through Aaron Naughton and the likes of Mitch Hannan and Weightman applying maniacal pressure at ground level which makes the dogs such a threat.
As for Fremantle, it's now six-straight seasons where the club has been hamstrung by a bottom-6 attack, the likes of which isn't exactly showing any massive signs of improvement. While they did flirt with a top-8 spot this season, this had a lot more to do with a largely excellent defence and brilliant midfield than anything it had going on up forward. They ranked 12th for marks inside-50 and an alarming dead-last for tackles therein. Unless the Dockers can install a significantly more nuanced attack, they'll remain September wannabes, which is a shame because this club has made some great strides everywhere else under Justin Longmuir's stewardship.
RELATED: Does Fremantle Have The Best Young Midfield In The AFL?
Geelong
Tika Tika belongs in Barcelona
Under Chris Scott the Cats have radically morphed their game-plan over the last couple of years to cater for its ageing and high skill level of its squad. It's a game plan which seeks to dominate tempo and possession, the likes of which is able to brush aside inferior opposition in the home and away season, but is being routinely torn to shred come finals.
This season, when the Cats amassed at least 250 uncontested disposals they won all 10 matches, yet limped to a mediocre 7-8 when they didn't. And it's this kind of lack of tactical variation which is keeping Geelong at arm's length when it comes to welcoming home a 10th club premiership.
Richmond have dominated in recent seasons through its maniacal, multi-faceted approach to the game and is a chief reason as to why the Dogs and Demons will be squaring off for a flag this Saturday. Until the Cats can accept that their relatively bruise-free approach can only get them so far, they run the risk of squandering this extremely talented list's potential.
GWS Giants
Keep investing in the midfield
The Dogs and Demons will be playing off for a premiership in large part due to the supremacy of their respective midfields with each containing a dizzying blend of exceptional talent and positional variation. Thankfully for the Giants, they showed in 2021 that their own isn't so far off the very elite.
While this team is stacked with talent in the most important part of the field, think Tim Taranto, Lachie Whitfield, Jacob Hopper and Josh Kelly, a concern for this club is its ability to work hard going the other way.
This season the Giants returned to play finals largely because of a midfield that was good enough to rank 5th for clearances and 7th for contested possession differential, yet was just 9th and 10th for tackles and metres gained equivalents and which inevitably put a heap of strain on its defence. In fact, the Giants surrendered a league-worst 1,295 inside-50s this season and the 4th most amount of marks therein. If they can tighten up, dig deeper in midfield and plug the leaks, the path to returning to another Grand Final mightn't be too distant.
Gold Coast
Don't let the young stars off the hook
Unfortunately the Dogs and Demons are only parting with the one lesson today despite the Suns bringing along a whole pad of butcher's paper to jot down notes. And the lesson the grand finalists are sharing with the September virgins is that its stars have to be a lot more accountable and consistent.
At Melbourne, the likes of Petracca and Oliver are of course incredible and the lynchpin of its midfield, yet it took a while for both of these players to first find their level and then maintain and incrementally improve once there. It's a similar story at the Dogs where Bontempelli, Macrae and Caleb Daniel are concerned.
The problem for the Suns is their good performances both by team and player are too often replaced by serious slumps, which never allows them to establish an accepted norm and which nobody can ever be held accountable to.
Matt Rowell couldn't have looked more impressive in his first few games at AFL level, yet averaged just 14 disposals over a dozen games this year and added just 2 goals. Izak Rankine also failed to take flight neither getting much of the football nor applying much scoreboard pressure.
If the Suns are to improve, it'll be through consistently good form, rather than occasional bouts of excellence which will underpin any breakthrough.
Hawthorn
Penetration
Hawthorn won 4 flags in 8 season between 2008 and 2015 and are responsible for many of the lessons both the Demons and Dogs have poured into their own successful recipes. With that said, it feels as though they're quite a ways from genuine contention at this point in time.
Hawthorn hasn't won a single September match in 6 years and so much of that comes down to them employing a relatively conservative approach to their game and which is lacking so much by way of dare and force, the likes of which you'll see the Demons and Dogs dispense with liberally on Saturday.
Like Hawthorn, the Dogs are very much a handball happy team, yet the grand finalists use theirs as a device to break open play and get the ball on the outside where it ranked 5th for metres gained differential and 2nd for inside 50s all of which contributed to an attack that scored more points in 2021 than any other team. While the Hawks accumulated more possessions than any club in the league this season, they ranked just 12th for metres gained differential and 15th for inside-50 differential and which ultimately contributed to them winning just 7 games.
While the likes of Tom Mitchell remain elite, and while James Worpel is a brute force inside, the Hawks are desperately waiting for the kind of outside presence that was so vital for them when they were an AFL leviathan.
RELATED: Can Hawthorn Re-Emerge As A Force Under Sam Mitchell?
North Melbourne
Patience with the youngsters
North's rebuild is starting to bear fruit. While a first wooden spoon in 49 years isn't ideal, the Roos looked legitimately decent over the second half of the season, perhaps signalling they're not all that far away from a September push. To do so however they're not only going to have to keep the faith in so many of their young stars but these youngsters are also going to have to keep discovering new levels of excellence.
Progress to stardom isn't always linear for AFL players and that's expressed perfectly in the figure of Christian Petracca whose leap to brilliance was looking a little murky a few seasons ago. In fact, that trepidation about Petracca's progress can be mirrored in North's Luke Davies-Uniacke who the Roos took with section 4 in 2017, but are still waiting for him to develop into a bonafide star. With that said, his progress is taking a similar shape to Petracca, while North can hope that he can take flight along with other Roos midfielders like Tarryn Thomas, Jaidyn Stephenson and Jy Simpkin to say nothing of Will Phillips and Tom Powell who the club took in the draft's first round last November.
The seeds of a seriously good midfield is in place at Arden Street, and like the Dogs and Demons, patience and development from here will be vital.
RELATED: The Terrifically Towering Trajectory Of Tarryn Thomas
Port Adelaide
To be the best you've got to beat the best
Port and their fans are sick to death of hearing it, but until they can find a way to consistently beat the best, a second AFL flag will remain but a dream.
The Demons and Dogs will meet in Saturday's Grand Final for a variety of reasons, chief among them their ability to rise to the occasion. This year, Melbourne have won all 6 of their matches against top-4 opponents which hasn't been done since Essendon in the year 2000. In the home and away season the Dogs were the only other team to claim at least 3 scalps against top-4 foes, form which has carried through to a remarkable finals series which recently culminated in their 71-preliminary final massacre of Port.
As for the Power, questions have been raised regarding their premiership credentials since the club returned to prominence at the start of 2020- a season they won the minor premiership for the first time in 16 years. Since then they've lost 5 of their 6 home and away meetings against the top 4 and come unstuck in two consecutive preliminary finals owing largely to their inability to step up on the biggest stage.
Heading into 2022 this will remain the definitive theme about a club who now hosts the Brownlow medalists and has produced five different All-Australians over the last couple of years. The talent is here, however questions will remain about their application, particularly when the heat is turned up.
RELATED: Have Port Adelaide Mastered AFL List Management?
Richmond
Health
The Tigers have won 3 of the last 4 flags and helped revolutionise the sport and so are clearly in no mood to be lectured by the Dogs or Demons about how to win a flag. With that said, both of these successful campaigns have been a reminder to Richmond about the importance of a clean bill of health and how much of a role this can play in a premiership tilt.
Melbourne have enjoyed an impeccable level of health this season and while the Dogs lost Josh Bruce, and have had Adam Treloar and Josh Dunkley miss large chunks, they've been relatively clean for the most part. As for Richmond, Dustin Martin's season ended in Round 18, and so too did their flag hopes meanwhile many other pivotal Tigers had interrupted campaigns with a raft of premiership heroes being impacted by injuries all season.
The Tigers will know that with better luck they can absolutely return to their menacing ways in 2022.
RELATED: Richmond Was The AFL's First Empire To Be Imagination Powered
St Kilda
It's got to be more than Steele
In Jack Steele the Saints have a legitimate A-grade midfielder. Two straight top-5 finishers at the Brownlow, two straight All-Australian blazers and likely a second straight Best and Fairest speak to a player in another tier entirely when it comes to the St Kilda midfield.
Steele amassed 113 more disposals and 76 more tackles than any other Saint in a virtuoso performance that would both thrill and equally concern the St Kilda brains trust insofar as how vast the gap was.
Not only have the Dogs and Demon midfields been the catalyst for their impending grand final stoush, but these two have a couple of the deepest and most variable midfield units in the entire league and is a large part of what makes them so dangerous. The Dogs depth in midfield allows a player like Marcus Bontempelli to venture forward and produce 47 scoring shots, while its a similar story for Christian Petracca at Melbourne who produced 45 scoring shots of his own while averaging 28.8 disposals per game.
Until the Saints can bridge that gap, and bring through more quality in the most important area of the park, they run the risk of not only exhausting and demoralising Steele, but also impacting the development of Max King up forward.
Sydney
More goal kicking avenues
Both Melbourne and the Dogs are defined by having so many avenues to goal. In the Bulldogs case they were able to withstand the loss of leading goal kicker Josh Brice and still be so potent, kicking 117 points against Port while having no less than 10 players produce at least one major on the night. Similarly, Melbourne have averaged 100 points over the last 4 weeks while 11 different Demons either led or had a share of the club's leading goal kicker for the round throughout the season.
As for the Swans, they've come a long way in short time, breaking back into Finals for the first time since 2018 while mixing it with the best all year. With that said they still rely very heavily on the legendary Lance Franklin and Tom Papley for their gaols and won't remain a true premiership threat until that can develop legitimate alternatives.
Sydney have't had a player not named Franklin or Papley average better than two goals per game since Kurt Tippett in 2014 while Melbourne and the Dogs have had a handful of different players do that over the last few years alone, while that list doesn't yet including either Aaron Naughton or Ben Brown- perhaps the two team's most dangerous forwards.
Sydney of course took Logan McDonald with the 4th pick last year and have every reason to believe he'll continue to develop positively, yet they'll need others to step up, especially with Franklin about to celebrate his 35th birthday over the off-season.
RELATED: Did Sydney and GWS Swap Identities in 2021?
West Coast
Desperately need to develop a plan B
The gap between the Eagles and genuine premiership contention is starting to widen with their lack of strategic innovation under Adam Simpson dooming them to the kind of irrelevance this club has rarely experienced.
When the Eagles won their most recent flag in 2018 they did so using a 1990s flashback template which relied on rapid, no nonsense ball movement and which aimed to get the footy as quickly as possible down to its dangerous tall forwards.
It worked a treat, yet the club simply hasn't evolved since.
With the likes of Richmond whipping past them, and lately the Dogs and Demons too when it comes to nuanced game-planning, the Eagles are still leaning on the same tricks while continually being blown away by superior outfits.
Unless they conjure something new over the off-season West Coast will need to get used to glancing out upon finals from a distance.
Did you enjoy this article? Join our free mailing list to get the best content delivered straight to your inbox, or join the conversation by leaving a comment below or on the Stats Insider Twitter or Facebook page.