Spurs vs Clippers Prediction and NBA Tips - 21 November 2023
Last updated: Nov 21, 2023, 1:10AM

|

Published: Nov 20, 2023, 2:22AM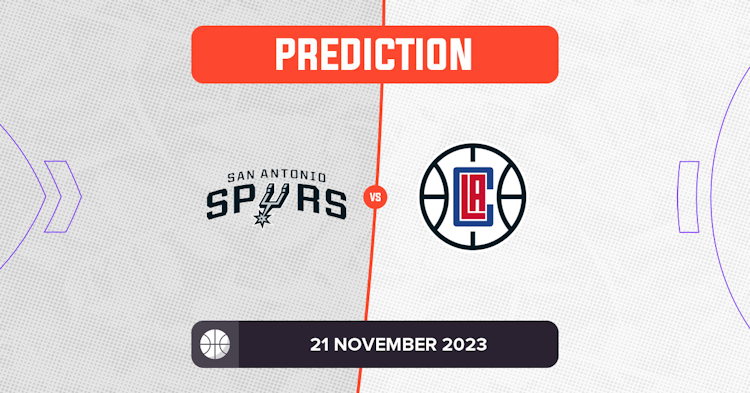 The San Antonio Spurs take on the favoured Los Angeles Clippers in NBA action at Frost Bank Center on Tuesday, beginning at 12:00pm AEDT.
With the likes of Victor Wembanyama, Keldon Johnson and Zach Collins, the Spurs are aiming to beat a Clippers line-up that includes Kawhi Leonard, Paul George and James Harden.
Stats Insider's free betting tips for Spurs vs Clippers, as well as the latest betting odds and player props, are featured in this article.
Who Will Win: Spurs vs Clippers
Based on high-tech machine learning and data, Stats Insider has simulated Tuesday's San Antonio-LA Clippers NBA game 10,000 times.
Our leading predictive analytics model gives the Clippers a 74% chance of winning against the Spurs at Frost Bank Center.
More: Spurs vs Clippers Match Centre
Spurs vs Clippers: Odds
The current betting odds in Australia for Tuesday's NBA game at Frost Bank Center are shown here:
Head to Head: Spurs $4.00, Clippers $1.27
Line: Spurs +9 ($1.91), Clippers -9 ($1.91)
Total (Over/Under 230.5 Points): Over $1.91, Under $1.91
Odds are correct at the time of publication and subject to change.
Looking at the latest head-to-head odds, PointsBet currently has the Spurs at $4.00. Meanwhile, bet365 currently has the Clippers at $1.27.
The Spurs are 9-point underdogs against the Clippers, with odds of $1.91 currently on offer at PointsBet.
For the favourite Clippers (-9) to cover the line, PointsBet currently has odds of $1.91.
The Over/Under for Spurs vs Clippers has been set at 230.5 with PointsBet, which currently has odds for the Over at $1.91 and odds for the Under at $1.91.
According to Stats Insider's model, the Spurs (+9) have a 53% chance of covering the line, while the 230.5-point Over/Under has a 52% chance of staying Under.
More: Today's Best Bets for All Sports
Spurs vs Clippers: Betting Tips
Head to Head: San Antonio at $4.00 with PointsBet (0.7% edge)
Line: Spurs +9 at $1.91 with PointsBet (53% probability)
Total Points: Under 230.5 at $1.91 with PointsBet (52% probability)
Stats Insider's Spurs vs Clippers best bets are based on detailed modelling and wagering intelligence to help you place better bets with your chosen online bookie.
While the Clippers have a higher chance of winning the game, betting on the Spurs to win is our recommended option because of the edge identified when comparing our data-driven probabilities to the odds currently available.
Making use of the edges published on Stats Insider is pivotal to being a profitable punter in the long run.
Spurs vs Clippers: Prediction
Stats Insider's predicted final score for Spurs vs Clippers at Frost Bank Center this Tuesday has the Clippers winning 118-110.
This prediction is based on each team's average score following 10,000 game simulations.
For more information, click or tap See Matchup.
Stats Insider has full betting coverage of San Antonio vs LA Clippers on Tuesday, including pre-game predictions, top betting tips, and live win probabilities.
Spurs vs Clippers: Player Props
Player props are an enjoyable way to bet on Spurs vs Clippers without necessarily betting on the outcome of Tuesday's game itself.
Stats Insider has crunched the numbers to predict how each team's leading players will perform at Frost Bank Center.
Victor Wembanyama is expected to lead the Spurs with 23 points, 9 rebounds and 3 assists, while Kawhi Leonard is projected to have 29 points, 7 rebounds and 4 assists for the Clippers.
Spurs Projected Box Score
| Player | Points | Rebounds | Assists |
| --- | --- | --- | --- |
| Victor Wembanyama | 23 | 9 | 3 |
| Keldon Johnson | 21 | 5 | 3 |
| Zach Collins | 19 | 8 | 5 |
| Jeremy Sochan | 15 | 6 | 4 |
| Tre Jones | 11 | 3 | 6 |
Clippers Projected Box Score
| Player | Points | Rebounds | Assists |
| --- | --- | --- | --- |
| Kawhi Leonard | 29 | 7 | 4 |
| Paul George | 27 | 7 | 6 |
| James Harden | 22 | 6 | 11 |
| Norman Powell | 19 | 3 | 2 |
| Russell Westbrook | 14 | 5 | 6 |
Our model updates frequently, so refresh this page for the latest betting tips before the San Antonio vs LA Clippers game at Frost Bank Center.
As always, see Stats Insider's Best Bets for the best tips on every NBA game, as well as a host of other sports that we offer predictions on.
Spurs vs Clippers: Preview
The NBA game between the Spurs and Clippers at Frost Bank Center is scheduled to start at 12:00pm AEDT on Tuesday.
All dates and times in this article are in Australian Eastern Daylight Time (AEDT) unless otherwise stated.
Our predictions for San Antonio vs LA Clippers have been made based on 10,000 data-driven simulations of the game, all curated by our team of experienced data scientists and analysts. We use cutting-edge technology and machine learning to ensure our NBA tips are accurate and reliable, giving you the confidence to make informed decisions.
If you choose to use our NBA predictions for betting purposes, it's crucial that you gamble responsibly and know when to stop. For free and confidential support, call 1800 858 858 or visit gamblinghelponline.org.au.
More on NBA
Stats Insider is your home for betting on the NBA in Australia, with the latest NBA betting news, tips for every NBA game, and futures odds for the NBA.